"People on a plant-based diet influence the style of cooking in restaurant kitchens" – interview with Chef Marcin Popielarz
He is still very young but his culinary skills were appreciated by the jurors of the S. Pellegrino Young Chef world contest and the Polish guide Gaullt&Millau. On a daily basis, he is a Chef Patron of the Biały Królik restaurant in Gdynia, Head Chef of Biôłi Trus restaurant in Leśny Dwór and a dedicated ambassador of #ChefsForChange project. During a walk around his restaurant's garden, he told us about his inspirations, the beginnings of his professional career, his favourite plant ingredients, and the reasons why he supports the idea of limiting meat in Polish people's diet. With his modesty, creativity, and positive attitude, he has won over many people associated with the world of gastronomy, as well as regular guests, who wait for Marcin's new, surprising (and also vegan!) dishes.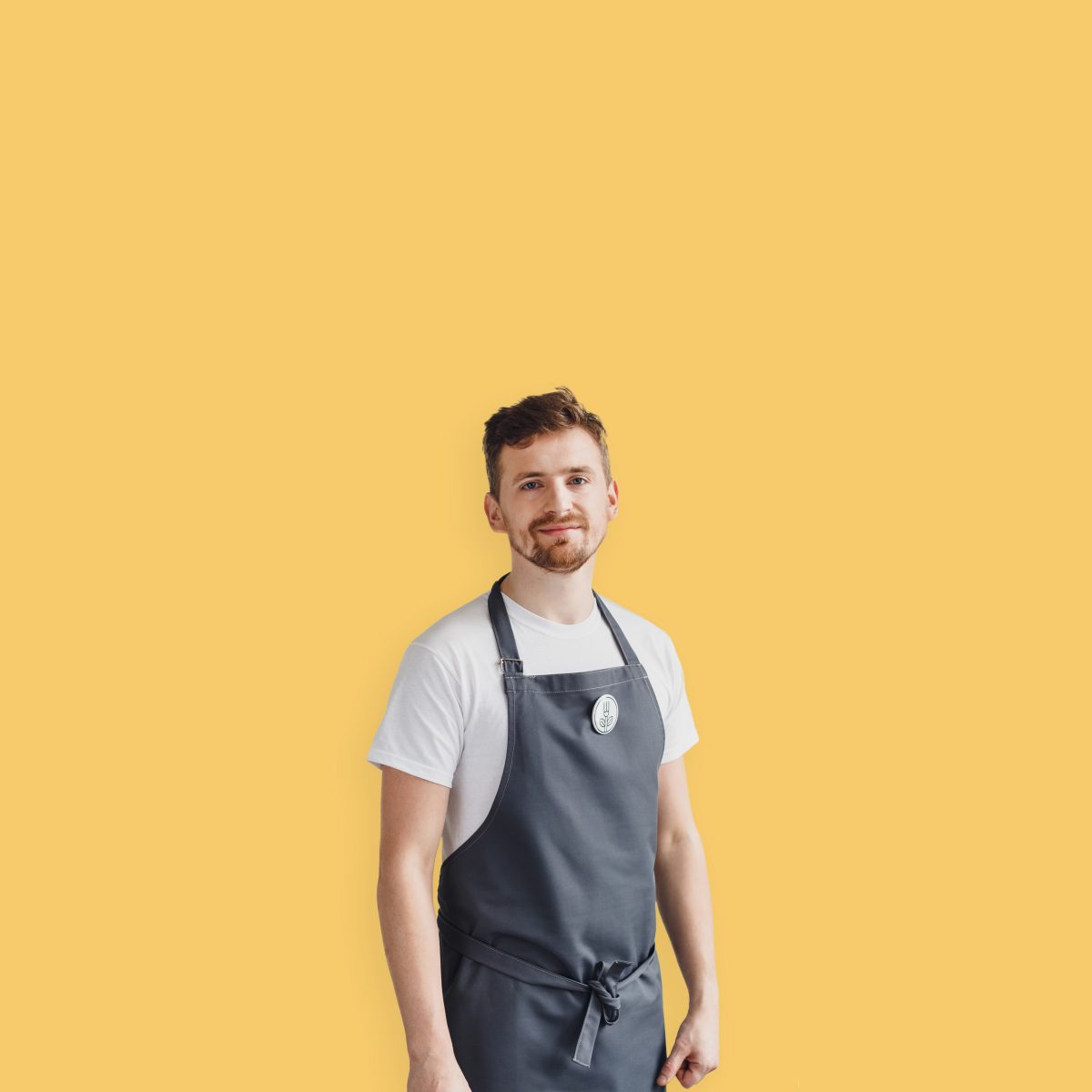 W.P How did you start your adventure with gastronomy?
M.P Neither the gastronomy school nor the apprenticeship in the secondary school was enough motivation. At first, it was an easy way for me to make money. I felt no call or vocation. Such things come later, together with maturity – when you work more and more and you see that it starts to give you satisfaction. You start to notice the difference that makes you stand out from someone else who has been in the same job longer. You see that you get to learn the principles a little faster, easier, you start to love it and be more into it. You realize that you will never want to work in another profession.

What's the best and most difficult thing about being a chef?
The best thing is freedom and that your word is always a final one. No one can affect what you do. Everyone needs, everyone wants to feel the integrity of their opinion in the environment where they work and live. Physically it is very hard work, even up to 16 hours a day, but it is not what I find most difficult. I feel that the mental burden is worse – when you have to tell people what they don't want to hear. In the kitchen, you often work with people who end up there by accident or out of compulsion. Working with people who want to tie their future to this profession is the best thing – it feels like you speak the same language.
Why is the idea of #ChefsForChange important to you?
I can't imagine a dish served without about 60% of the vegetables, all my dishes are served with a strong vegetable suit, I like to turn up the flavors of vegetables, play with their aroma. It is important to me that people eat vegetables. From the business side of view – vegetables are selling best, it doesn't take a lot of energy and work to prepare them, they are not expensive. Yet a well-prepared vegetable can cost as much as meat. The food, business, and ideological side are very well combined here. I am aware that the amount of energy needed to produce meat it is enormous. That's why, first of all, I respect the whole product, secondly, I always have most of the vegetable ingredients on my plate, thirdly, I am open to serving vegan dishes on the menu.

Have you noticed a difference in the perception of veganism in the HoReCa sector in recent years?
Yeah, it's changing. On Saturdays, we have at least 3 or 4 tables where one of the guests is on a vegan, vegetarian, vitarian, or gluten-free diet. This definitely translates into the cooking style in the restaurant kitchens. It is easier to predict something in advance if we know what the demand is than to create dishes right away. It happened that we prepared the whole vitarian wedding menu – without pre-packaged products, with specific vegetables. We are not afraid of any challenges and even with such diets, we prepare 12 full dishes. To be honest, for me it is fun and actually simpler than cooking from meat. And believe me, for example, a baked potato peel consommé can be full of umami taste and make a big impression. I'll never understand how one can not offer vegan dishes at special events or serve vegetables from water or overcooked soya chops. Plant-based cuisine is very rich and it is a shame to waste its potential. There is a whole range of products – from groats to all kinds of starch, vegetables, fruits, and herbs, and we should play it freely. We forget about the art of vegetable processing, blanching, proper cooling, heating, pickling. The most important thing is to always keep an eye on the time. For example, we blanch large asparagus for 2 minutes, a small one – one minute, always in heavily salted water, and then we move it to a large quantity of water with ice. Then we heat it in oil with a bit of garlic and vegetable stock – these are very simple rules which help to bring out the full taste of vegetables. If I hear chefs publicly speaking about blanching asparagus for 10 minutes – I'm not surprised that Poles often don't know what flavours vegetables can have. A sad example is a cauliflower "murdered" in 90% of houses in our country, where it usually tastes of water. Unfortunately, we treat broccoli or spinach similarly. And it is time to change that!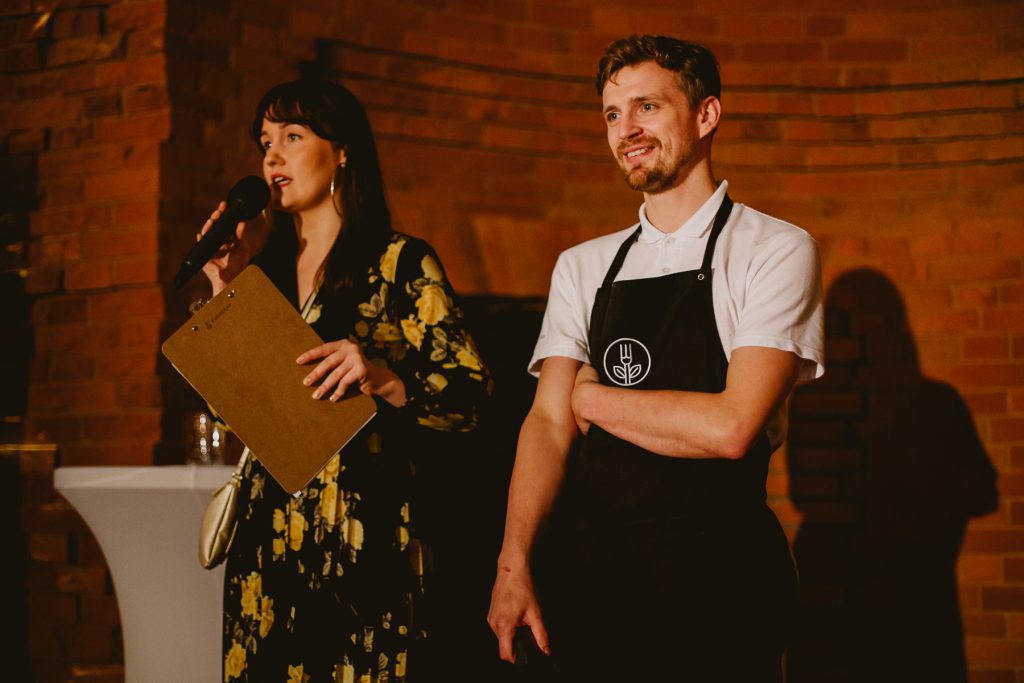 What emotions were you feeling during the final of S.Pellegrino Young Chef?
The very participation in the final of S.Pellegrino Young Chef was an honour for me. In the beginning, nothing indicated success, because for example… all the plates for the final service were broken on the way to Milan. Eventually, I consider the 2nd place on the podium and the 6 points that were missing to 1st place as a great success, which nevertheless left me feeling a bit disappointed. I am pleased though that what I served to the jury on the plate – the alcohol granite, creme fraiche from rhubarb juice or horseradish star from freeze-dried Polish horseradish – could impress, while also representing the flavours of my region.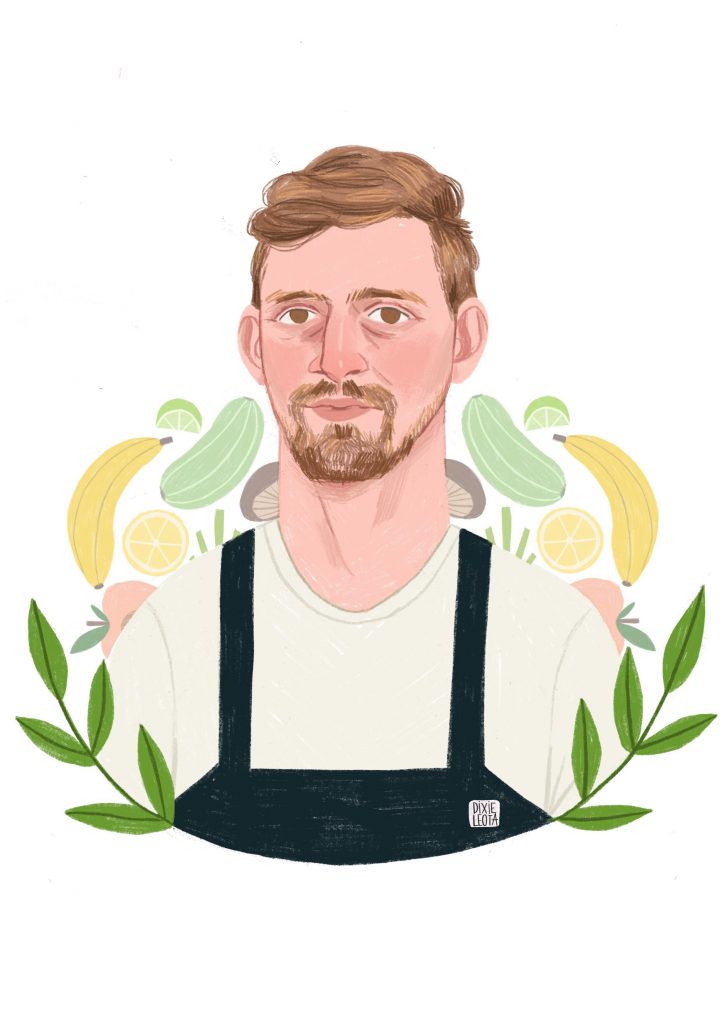 Your biggest dream related to gastronomy?
I would like Michelin stars to spread all over Poland. In various places in our country, my colleagues serve such dishes that I am convinced that there should be at least 12 stars, not just 2. Comparing what I eat here and abroad I see that we deserve it. Michelin stars are also influenced by various other factors, e.g. food-related initiatives, which are created in Poland. I think that we have developed a lot in recent years. It's some kind of everyday basic work and your campaign does it, too. Thanks to events, campaigns, foundations related to a good, healthier, and more responsible way of eating, foreign chefs know what Poland is, where Poland is and what is important in our cuisine, both traditional and modern.

Your favorite vegetable, fruit, and herbs?
First of all… onion! I use it a lot in the kitchen, currently about 7 different kinds of onions – pearl, Italian, red, we have also grown our mini shallot onions, moreover, there is garlic onion. In fact, ¾ of the dishes in my restaurant have onions in cooked, blanched, vinegar form and as a base for sauces or stock. Secondly, lovage, in any form! Roasted, in essence, powder, stock – this is a typical Polish taste for me, which is worth bragging about. I use many Polish herbs in my kitchen, apart from lovage, most often chamomile and bear garlic characteristics for Żuławy region. Thirdly, rhubarb. From the end of March to about the first week of June is always the season for dessert with rhubarb.

A vegan dish with which you would convince someone to the plant kitchen or to taking on the Plant Mondays challenge?
I'd probably suggest a menu I prepared for the "Transatlantyk Festival" dinner. It is a feast inspired by Israeli cuisine, in the style of Ashkenazi – European Jews who lived in Poland before World War II. The first three dishes are plant-based:
1) star-shaped vegetable jelly, with gold-of-pleasure oil and croutons – made from vegetable gazpacho based on apple vinegar.
2) hummus from pickled peas with artichoke cooked in orange juice
3) Polish tomatoes from Grudziądz with hibiscus mousse

Marcin was interviewed by Weronika Pochylska.
Blog